Welcome to our Small Victories Sunday Linky!
This week, I am co-hosting the Small Victories Sunday linky with Tanya from Mom's Small Victories. The Small Victories Sunday Linky is a way to share the small victories you celebrated with other readers this week. Whether it's a fabulous book you read, a recipe your family loved, a home organizing project that you completed, a goal you accomplished, or an awesome old or new blog post you wrote, Small Victories Sunday is the chance to share positive, uplifting and inspiring posts.
Follow our Hosts:
Ways you can follow me: Subscribe/Facebook/ Google + / Pinterest/ Twitter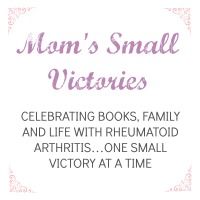 Ways you can follow Tanya at Mom's Small Victories: Subscribe / Facebook / Google + / Instagram / Pinterest / Twitter
This Week's Featured Blogger

:
I'm happy to announce, my Featured Blogger for this week is Bonnie at Lady Blogger . Feel free to grab the Featured Blogger button for your blog and share your good news! Be sure to visit Tanya to see which blogger she featured whose post earned the most views this week.
Bonnie shared with us a little bit about Mr. Baker her Western Civilizations and Economics teacher from high school. He was a teacher that made a difference for her and there were certain traits that his students could rely on. Read her post to find out more!
My Weekly Recap and Next Week's Goals:
This week my small victories are:
1) Survived Spring Break with a child recovering from surgery and dismal weather.
2) Finished my 4th Cytoxan treatment.
3) Had a great talks with my best friend and my sister this week.
Now It's Your Turn to Share Your Favorite Posts and Small Victories!
Linky Rules:
Follow Tanya and I so you stay informed of Small Victories Sunday updates and posts shared throughout the week.
Grab the Small Victories Sunday button and place it in your sidebar, linky page or the post you are linking up.
Share up to 3 of your favorite family-friendly blog posts you want to share. Enter your link below and let's celebrate our small victories together!
Visit as many of the other participants as you can and cheer them on. Please visit at least 2 others for every link you enter.
By linking up, you are giving Tanya and I permission to share your post on my social media pages to let others know of your awesomeness too!
By linking up, you are giving Tanya permission to email you notifications when the linky is open. You can unsubscribe to emails at any time.
Spread the word! The more you share about the linky, the more visitors you will get to your content too.
Stop by our Small Victories Sunday Linky Board on Pinterest and like and repin the posts to your boards.
Need inspiration? Click here for Small Victories writing prompts, but the sky is the limit.
Interested in Co-hosting? Send Tanya an email at tanya{at}momssmallvictories{dot}com.

An InLinkz Link-up